Recently we got a chance to work on Concrete5 CMS. It was new challenge for all and for us who are into CMS website development and it seems we have successfully concurred it. Being website development company, we thought it will be good to share something about Concrete5 CMS so other people can learn and use it easily.
Concrete5 uses jQuery for almost all our JavaScript needs. It uses Zend libraries for complicated stuff like internationalization and caching. It uses MySQL, but through the ADOdb Database Abstraction Layer. Sure our in-context editing is easy, but Concrete5 has a really powerful advanced permissions system, a flexible data objects model and built-in helper classes as well. Developers have built Concrete5 to be easy to understand at a glance, but super powerful once you open the hood.
Following sites can be built with Concrete5 CMS
Online magazines and newspapers.
eCommerce websites.
Extranets and Intranets.
Government websites.
Small business websites.
Non-profit and organization websites.
Community-based portals.
Church, club and team websites.
Personal or family homepages.
Marketing focused sites for a corporation.
Any school, college or university web site.
Many online communities.
Anything else you can dream up!
How to access Concrete5 Dashboard
Unlike any other CMS, there is no specific backend which needs to be accessed, where we need to manage our content and display it at front end. We can manage content by adding/editing through frontend only. For that we need to enter in edit mode, start editing page by adding/editing blocks.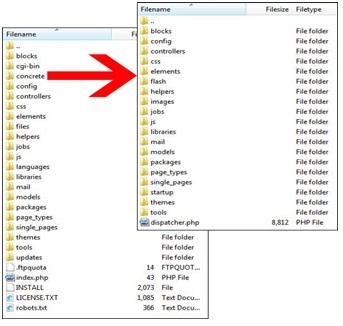 For extended features, we have dashboard, which is accessed using this url :
your_site_root/index.php/login/
Here we have options to add/edit pages, page types, themes and many more stuffs.

How Concrete5 is different from WordPress
In terms of administration, both the CMS Website development technologies do a fairly even job of abstraction coupled with efficiency, but as I said earlier unlike any other CMS, there is no specific backend in Concrete5. That is why it is easy to manage content in Concrete5 compared to that of WordPress.
For me, the key strength Concrete 5 has is its blocks. Dragging blocks around zones in a page is very simple, and makes C5 a good fit for brochure, portfolio, education and many other sites. Having the
Underlying model of blocks in a page is very strong aspect of Concrete5.
When adding content to a Concrete5 page you are working directly on the page design, so you can see what you are doing while doing it. In WordPress, you are behind the scenes, so to see the changes in WordPress, you must launch a preview page.
Concrete5 has a CMS that is very clear and there is nothing confusing about it. WordPress website development confuses some people, I know because people are always asking a WordPress developer questions about the settings, plugins, functionality and more.
Concrete5 also has tons of add ons just like WordPress, so you can add a blog also.
WordPress has a ton of themes available, Concrete5 not as many, but if you're going to hire a designer for a custom theme anyway, this is not an issue.
Generally, a newbie is more likely to begin with WP and then move on to Concrete5. In easier words, Concrete5 user base is such that it can and does include migrants from WP. On the other hand, WordPress user base generally has permanent migrants from any other cms but rarely from Concrete5.
Trust me, pick any topic: administration, security, target audience, update mechanism — you will have a hard time claiming WordPress superior to Concrete5.
I personally prefer Concrete5 over WordPress as it was designed as a CMS system. WordPress is a blogging platform turned CMS. Concrete5 offers a lot of flexibility for a full featured website.
Technically speaking, both systems are capable of handling your needs. Ultimately it comes down to how you will be using the site.
Conclusion:
WordPress
Pros
Most popular CMS
Numerous third-party themes and documentation resources.
Cons
Heavy reliance on plugins
Advanced users may find the abstraction too rigid
Concrete5
Pros
Ideal balance between abstraction and customization
Features such as Sitemap are native, and not via plugins
Cons
Needs some more ready-made premium themes (probably a WooThemes-like provider for Concrete5)
At LetsNurture, we have thrived in providing WordPress website development services. You can also hire Dedicated WordPress developers love to work on WordPress as it enables them to have a control on the layout of the site and makes easy for the clients to make edits whenever needed. Apart from configuring some of the best plugins for your website, we will also conduct regular visits and tests to ensure that it runs smoothly. Rest assure when you work with us and know that your website is in good hands.
Get in touch today for any of your requirements for an existing or a new website.